home

biography

CDs

works

gallery

contact

links

deutsch
The Italian composer and guitarist Carlo Domeniconi is one of today's leading guitar artists.



His compositions are principally for guitar, whether solo, duo, trio, quartet or in conjunction with other instruments or voice. In addition, he has to date written more than 20 guitar concertos, of which approximately half are for solo guitar, and half for various groupings of instruments.



Among the most frequently performed of Domeniconi's works are Medium Sweet Guitar Concerto, Concerto Mediterraneo for two guitars, Concerto di Berlinbul for Turkish saz (baglama), guitar and chamber orchestra, and El Trino del Diablo (The Devil's Trill) for solo violin, speaker, soprano, two guitars, string quartet, accordion, piano, viola da gamba and percussion. This last piece was performed at the Passionskirche, Berlin, on the occasion of Domeniconi's 50th birthday. A year later it was performed in the Philharmonie Berlin, and in 1999 at the Istanbul Festival.



As a player Carlo Domeniconi has performed his own music at regular concerts all over the world for over 30 years.



Many of his compositions are played by renowned musicians including David Russell, Alvaro Pierri, John Williams, the LAGQ, Dale Kavanagh, Marco Socías, Pavel Steidel and Shin-ichi Fukuda.



Pieces such as Koyunbaba, Variations on an Anatolian Folksong, Hommage à Jimi Hendrix, Toccata in Blue and Sindbad are now an integral part of concert programmes. Several CD recordings of these compositions are available.



Numerous rewiews and critiques of Carlo Domeniconi have appeared, for example in Classical Guitar, Le Cahier de la Guitare, Il Fronimo, Gitarre Aktuell, Gitarre und Laute and Guitart. Two are quoted here:


"Domeniconi's music seeks repeatedly the synthesis of East and West. He seems able to take the quintessence of different cultures and tell them anew. A hypnotic inevitability goes through his music."

Michel Lydon, Soundboard, New York 2001

"An element of hypnosis is present in much of Carlo Domeniconi's work. Surrender to it, and the chances are that you will enjoy the music on his own terms..."

Colin Cooper, Classical Guitar 2008

The five CDs Selected Works I - V are the first of a projected series of albums showcasing work composed and performed by Carlo Domeniconi.



The CDs are published by musica·ex·tempore
and distributed in Japan by HOMA dream.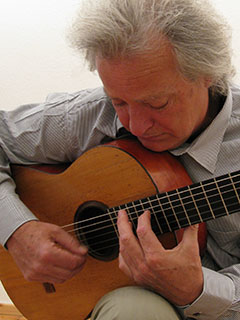 photo: David John




www.edition-ex-tempore.de




www.homadream.com